Who says that setting up an adult entertainment site has to be complicated? Sure, when you scroll through some of the most famous ones, like xHamster and PornHub, you may feel like they have too many sections to keep track of, too many design elements to create from scratch.
But, the good news is that, thanks to WordPress and its ever-present adult themes, you do not have to hire a team of professional web designers to build a website for you.
You can save yourself a lot of money and headache by simply choosing a theme that best fits the purpose of your website, and you can install it on your own! The most you will need is a bit of knowledge regarding WordPress – or where to find this knowledge – and you are all set!
To make your life even easier, we took it upon ourselves to compile a list of 8 WordPress themes that are created specifically for adult sites.
Read ahead to learn more about each one, and how they can help you start your online business on the right track.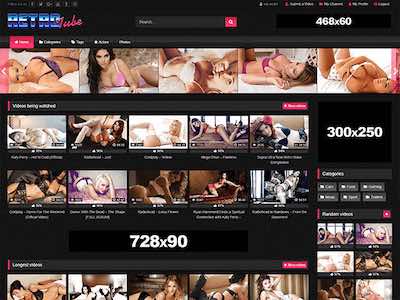 The RetroTube theme has a distinctly retro vibe to it, to no one's surprise. It is dark, meaning easy on the eyes, with buttons and links in a popping hot pink color.
This WordPress theme is great for a video tube style site, but you can also add a blog or a collection of photos to it. It can be responsive or boxed, however you prefer, and you can change the sidebar from the left to the right side.
The RetroTube theme also has an option for a video carousel on the homepage so you can highlight the best videos on the site.
It can be transformed into a niche theme in one click that immediately changes the color of the site, the logo, and the background image. The RetroTube is best used with the Mass Embedder plugin to quickly include a large number of adult videos.
Pros:
Retro Style
Lots of Configuration Options
For a Video Tube Site
Video Carousel
Cons: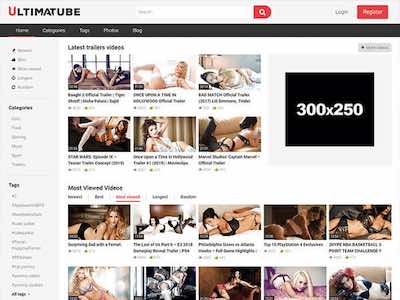 Inspired by xHamster, the UltimaTube theme is clean, modern, and easy to navigate. At the moment of writing this review, it comes only in light mode, but the team behind the theme is currently working on introducing the night mode as well.
It is fully responsive, compatible with all WP-Script plugins and has predetermined ad spaces. (Though not too many.)
Some more features you can find with the UltimaTube theme is that your guests can preview the video by hovering over the video thumbnail with the cursor, and the site users can even submit their own videos if you allow them!
This is a great way to build a community on your adult site, especially of those enthusiastic about amateur content.
Pros
Light and Clean
Easy Navigation
Video Preview Enabled
Users Can Submit Videos
Cons
Only Light Version (For Now)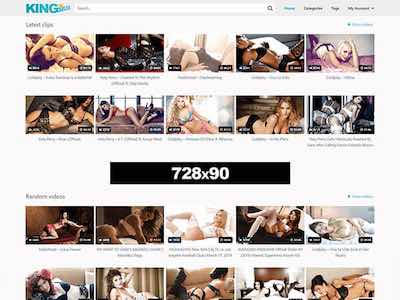 The KingTube theme is elegant and minimalist so that your visitors have an easy time finding what they are looking for.
The theme is reminiscent of PornHD, though it has a different color scheme. (It can have any color scheme you want it to have, thanks to its many customization options.) Like all other themes on this list, the KingTube is also fully responsive.
A slight downside to KingTube could be the fact that it does not have a sidebar. This is not a must for a website, of course, but it does make navigation easier, especially if you have many categories to choose from.
However, overall, the KingTube is efficient and with a strong focus on the content instead of distracting ads and links.
Pros
Minimalist and Elegant
Fully Customizable
Designated Ad Space
Inspired by PornHD
Cons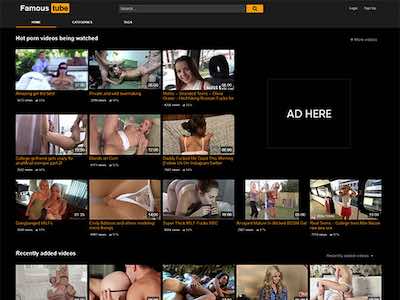 The moment you open the live preview of this theme, you know what famous site it is trying to emulate. If your goal is not to have a PornHub doppelganger of a website, keep in mind that you can easily change the site's colors and customize it to suit your business. FamousTube is dark and professional and, of course, fully responsive.
The tricky part about the FamousTube theme is that it offers sidebars only in the video pages, and only one right side.
Like with the KingTube theme, this is not a big flaw, but it is something you should keep in mind. Perfect for video tube sites, the FamousTube will help your visitors find all the best clips they're looking for.
Pros
Dark and Professional
PornHub-Inspired
Fully Customizable
Ideal for Video Tube Sites
Cons
Sidebar on Video Pages Only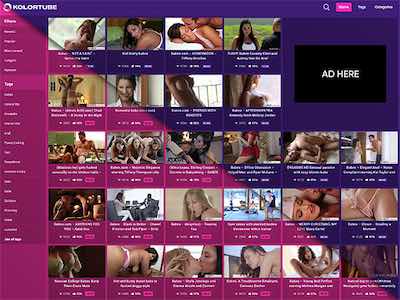 What makes the KolorTube theme stand out in this review is the fact that it can not only be used for a video tube site, but also for cam sites as well. It takes its cues from one of the most famous cam sites out there, LiveJasmin, and its grid layout homepage is great for displaying currently ongoing live shows.
KolorTube can be colorful and vibrant to draw the eye, and it has a great sidebar where you can display filters, categories, and tags.
Like the previous themes, KolorTube also has already defined ad spaces so you can increase your revenue without spoiling the design. Additionally, this theme is SEO ready, meaning you can customize the titles and descriptions for every site page.
Pros
For Video Tube and Cam Sites
SEO Ready
Vibrant Colors
Neat and Organized
Cons
No Blog Section
No Photo Gallery Option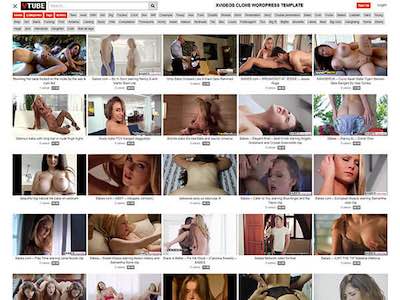 If you are a fan of XVideos, you will recognize the VTube theme. It is built specifically to mimic the world-famous adult video site, right down to the most popular categories and tags listed above the grid of video thumbnails.
VTube has a prominent search bar as well, to help your guests quickly get to the type of content they want.
The VTube theme was released only a couple of days ago, and thus it is still in its early stages. Some bugs might be expected, but you will find that the team behind this theme is always working on updating their code and fixing what is wrong.
We are expecting great things out of VTube, and you should definitely try this one out and see if it works for your site.
Pros
Clearly Displayed Categories
Large Search Bar
Easy Grid Layout
XVideos Style
Cons
Potential Bugs
A Bit Messy
#7 MonaTube Theme
As far as design goes, MonaTube is pretty classic, some might say even a bit old-fashioned. However, old-fashioned does not always mean bad, and we actually appreciate the reliability of this theme.
It has a clear banner place for a logo, an easy menu for navigation, an ad banner, and then the well-known video grid.
The good sides to MonaTube are that it is optimized to load quickly, is SEO-friendly, and completely responsive. In case something is off with the theme, you can expect to get support from the designer team at any time of day or night. If you do not mind its somewhat outdated style, MonaTube could easily work for you.
Pros
Fully Responsive
Fast Loading Speed
SEO-Friendly
Ad Locations
Cons
#8 JunVid Theme
Another video-oriented theme, JunVid is great for any type of entertainment site, like for movies, TV shows, streaming and, of course, adult entertainment.
It has a simple aesthetic, though the color palette may use some work. Thankfully, JunVid offers unlimited color choices so you can create whatever style you want.
The video carousel at the top provides a fancy glimpse into the website content, and you can sort the grids on the homepage into categories such as Most Viewed, Recently Uploaded, Top Rated, and similar. JunVid may not be anything groundbreaking in terms of design, but it is a reliable layout that brings efficiency and minimalism to your website.
Pros
Clearly Displayed Menu
Video Carousel
Video Grid Sorting
Unlimited Color Choices
Cons
Some Empty Space
Not Attention-Grabbing
Final Thoughts
When you are choosing your theme, keep in mind the purpose of your website, how easily the theme can be customized to fit your vision, whether or not it is easy to navigate, and finally, the price of the theme.
Make sure to view each theme in demo or live preview mode so that you get the full effect of what your site would look like.
We hope you enjoyed our list of the best WordPress themes for adult sites, and we wish you good luck in launching your business!