In case you do not know this, you can make money by selling sexually-oriented content and products, over the Internet. Unlike the door-to-door salesmen of yesteryear, today's modern marketing mogul needs no no store, no product and most importantly, no investment other than web space, a domain and net access.
Adult webmasters can make a living selling other people's porn, often with free samples, free marketing tools and bonus incentives. It is a huge industry in the online world and it has grown phenomenally over the past few years.
The main reason why just about anyone gets into the adult business is to make some money as an affiliate. LOTS of money is just about everyone's dream.
However, there are several things you need to know before you sign up for an affiliate account and start making bucks. In this new article we will explain everything you have to know about affiliate marketing, including how does it work and how you can start your very own online business in this exciting and lucrative industry.
What You Will Learn
This fresh article is all about trying to answer the following questions:
What Is Adult Affiliate Marketing.
How Does Affiliate Marketing Really Work.
Examples of Affiliate Sites.
Why I Love Affiliate Marketing.
You are going to learn a lot in today's post.
So What Is Adult Affiliate Marketing?
It is a well known way to earn money online. In a nutshell, affiliate marketing is when you (as an affiliate) refer a customer to sponsor's website and you take a commission if the customer you referred makes a purchase.

So affiliate marketing at its very core is about a relationship between these three parties:
1.Affiliate Sponsor/Advertiser
EXAMPLES: CrakRevenue,Chaturbate
A Sponsor is just a fancy name for someone that pays you a commission to sell their product or service. They provide the product. You market it. You are then paid a certain percentage of the cost of every sale you make. On the adult Internet, we call these people sponsors. Online sponsors give you a unique code/link that you put on your webpages. This code is called a referrer ID. They track your sales with this ID and pay you according to the Terms of the Sponsor/Affiliate agreement. When you sell for a sponsor, you become an affiliate.
Many sponsors cater to the adult Internet. Most will want you to sell memberships to paysites. However, there are other types of sponsor programs with products/services like online adult toy stores, downloadable xxx DVDs, or herbal supplements. All of these sponsors follow (primarily) the same business model. Most will payout monthly and many payout weekly. Most require you sell at least $50.00-$100.00 worth of their product/service before you will get a check. Quite a few will wire money straight into your bank account.
2.Affiliate/Publisher
EXAMPLES: Rabbitsreviews.com, Onlydudes.com
This is the person that is responsible for promoting the sponsor's websites or products on his own adult site. So basically you (as an affiliate) display ads, some people (customers) click on these ads and whenever a sale is generated, the sponsor pays you a specified commission. The more sales the more money in your pocket.
You are paid to for every successful sale and in turn, you do not have to worry about members, billers, taxes or thieves. Best of all, you get to do it without ever walking a step.
3.Customer
You will not make any money if there would not be any surfers who visit your adult website, take action through clicking on the ads which interest them and finally purchase a membership on the site which you promote.
How Does Affiliate Marketing Really Work?
This business model can be explained in three easy steps:
You post an affiliate link on your post and then someone visits your site.
When one of your visitors clicks on that link, he goes to the retailer's website.
Now if that person who clicked your link, likes the content on that site, he decides to make a purchase and you earn commission when the transaction is completed.
In to explain the technology side of things that is actually quite simple. I will give you an actual example so you better understand how this works:
Let's say I have a porn blog and I currently promote a premium paysite called Brazzers and I get 65$ for every client I get them and I all I do is use the one affiliate link on my blog.
Whenever someone goes to their website through that link and buys a membership I get 65$. It is that simple.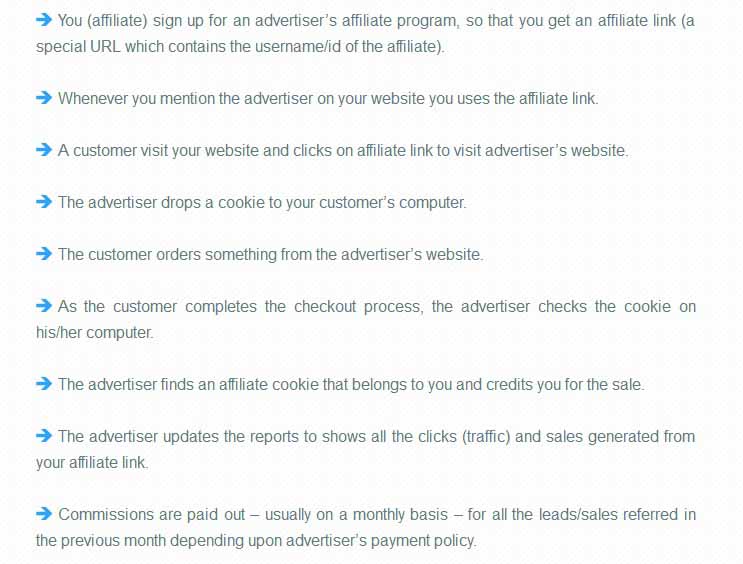 The affiliate/sponsor model is for the web but it has a real world counterpart. The commission salesperson.
On the physical plane a person markets the product of another and if the marketing results in a sale, that person receives a percentage of the buy price as payment.
This model works in department stores, car dealerships and beauty shops. It works for audio and electronics stores. It works for appliance sellers.
Even talent agents are nothing more than commissioned salespeople. The affiliate/sponsor relationship is relatively the same, just in a different medium.
Really, affiliates are a whole lot like the door-to-door salesmen from days of old. They were given marketing materials like free samples, special portable display cases and pre-written sales scripts. They would have to enter the homes of their customers in order to demonstrate their merchandise.
If they got a sale they took the cash or check and had the customer sign an agreement to receive their new doodad as soon the boss got the money.
If the merchandise were small in size or value, a door-to-door could carry their tangible goods with them, but often this kind of selling was time intensive. It was also damned hard on the feet.
As an Internet affiliate salesperson you have got things a whole bunch easier than did our noble progenitors.
You can sell stuff to millions of customers without leaving your computer.
You can work for an unlimited amount of sponsors.
You can choose your hours and you can choose your product line.
You can makes sales for someone else and get paid a percentage of the buy price without any seed money, kit fees or start up costs.
Sponsors give you samples and ad banners and all the special codes you need to make that sale. Some also give you content and hosting as long as you sell their merchandise. All you have to supply is the work, and compared to that ancient door-to-door guy, you have got it fucking made.
Let's See Some Examples
Now that you understand how the affiliate marketing works I will show you a two successful affiliate sites. I hope that looking at these great websites will give you some inspiration with your own sites and you would have a better understanding of how webmasters earn cash through affiliate commissions.
Example 1 – Review Porn Site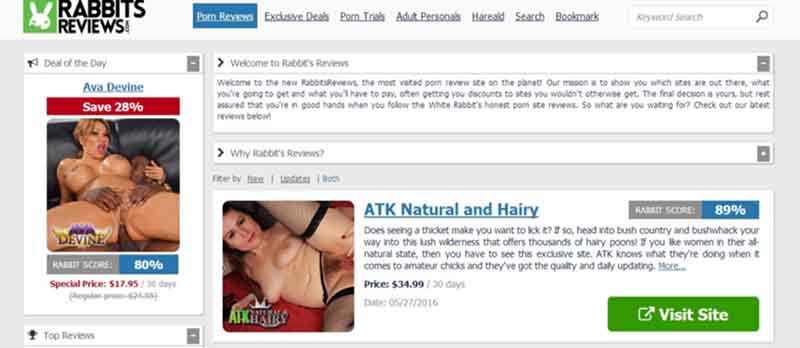 Rabbitsreviews.com is a well-known porn site and probably the best review website on the web. The owner of this fantastic site generates a lot of sales by simply writing reviews of xxx paysites.
There are tons of people on the internet looking for quality porn sites and they want to join only the best sites.
Unfortunately, this industry is also filled with tons of scammers that want to trick the potential customer into buying a membership on some junk sites. But this site test all porn sites and rank them accordingly so basically they help visitors make better decisions.
The site looks very attractive, all posts are also in-depth reviews, very helpful and informative so no wonder the owner of Rabbitsreviews.com makes a bunch of money from that.
They do not need to create the products on their own, they earn cash every time a surfer clicks on their affiliate links and purchases a membership on one of the review sites  that they promote. Simple, isn't it?
Example 2 – Niche Video Site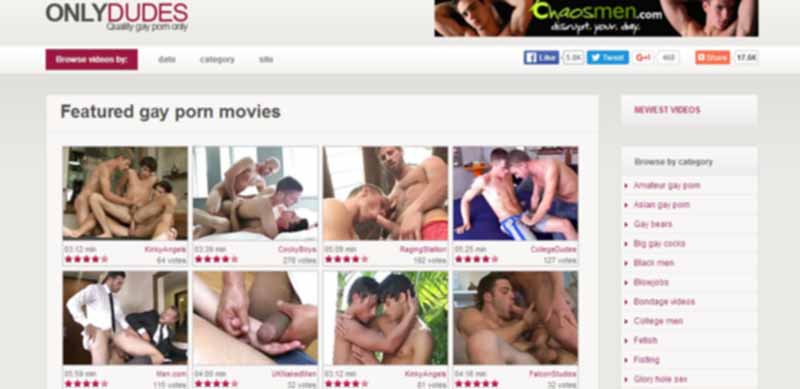 As far as the porn industry goes, niche video sites are very profitable in the long haul. Mainly because they perfectly serve the needs of viewers who love that kind of sites.
As some of you may know, there are thousands of affiliates out there running video tubes as their main affiliate site.
Instead of creating long blog posts that are very time consuming and require a good writing skills, they stream preview clips on their servers.
One good example of this kind of site is Onlydudes.com.
This is one of the top-rated gay porn tubes out there. This web place has a good collection of preview clips featuring some of the hottest dudes in the business.
How do they monetize their site?
They are promoting premium paysites under every video. They simply embed short video clips from affiliate sponsors on their site.
So when the surfers are interested in the content, they click on the text link that says "watch full video at" and then if they purchase a premium membership from the sponsor, the affiliate (in this case the webmaster of Onlydudes.com) gets a commission from that sale so everyone is happy.
Want more examples?
Of course besides all the mentioned sites above, there are a handful of other ways webmasters earn money through affiliate commissions.
Take picture blogs as another good example of sites that take a cut from any sales. These websites usually add photo samples which program sponsors offer them to contain within posts.
They also make their money by referring people to paysites.
Why I Love Affiliate Marketing
Of all the ways I have tried to make money online, adult affiliate marketing is definitely my favorite one.
Working from home as an adult affiliate comes with so many really nice advantages, some of them include:
Start up costs are very low. Joining affiliate programs is completely free of charge and your domain name will usually cost around $10 per year and the hosting can cost you as little as $4 per month. You do not need to pay for the blogging software if you are going to use WordPress. You can start a website and run it for a year for less than 100 bucks. For real!
You can make a full-time living off of it. It takes about a few months before you can leave your job and do this full time. I have been making a living through affiliate marketing for over a decade and I would never return to my former job.
It is very easy to get started in this business. You do not need any expert knowledge. What do you need to start from a purely technical point of view? You just need a computer access to the internet and an email address. That is all you really need, I am not joking!
No customer service, no phone calls, no carrying stock, no processing sales, no shipping, no dealing with customers, the sponsor handles everything for you. No need to create a product or content of your own and you only have to promote the sponsor's product. That is why affiliate marketing is so easy today and so easy to get started.
The good thing about it is that you will see instant results. Let's say you have a blog and start promoting an affiliate link today, you will see in real time how many commissions you earn. This is the beauty of affiliate marketing that you can test your ideas quickly and see if they make money or not without having to wait for weeks.
This business is highly scalable. A very big percentage of the most successful online marketers in any industry are affiliate marketers and the main reason for this is because affiliate marketing is scalable. Getting the first sale is the hardest part then you just repeat and think of way to scale up that effort.
There is a bunch of cash to be made. I know people that make over six figures every year by simply pushing sites of others. If you get creative, you will be able to earn even more but do not expect to earn millions in your first month.
In Closing
This kind of business has been around for decades and it is a fully legitimate business.
Avon is a multi-million dollar personal care company. Part of the reason they reached such powerful stature is because of their unique sales method.
Other personal care product manufacturers required a vendor to have a brick and mortar store and to purchase units up front.
Avon recruited housewives to walk around their neighborhoods with sample cases and brochures and sell to their friends and neighbors.
This silent force took Avon to the top with productivity and sheer numbers. They have thousands and thousands of non-salaried salespersons and have no need to spend one dime on television advertising.
The whole concept of affiliate marketing is kind of like Avon for the Internet.
One adult company can have thousands of webmasters promoting their products on a commission-only basis.
This arrangement is a win/win for the sponsor and the affiliate. The sponsor gets an unlimited sales force they only have to pay when that force is productive. The affiliate can offer products they do not have to buy first and can work at their discretion.
Stay with us and you will soon be able to make good money with sponsors. Tens, maybe hundreds of thousands of adult webmasters work only with adult sponsor programs on the web.
They do not own paysites and they do not have to. You can make a living with sponsors (just like myself).
I have been an affiliate marketer since ages for over decade and I can tell you that you are able to make a lot of green bucks.
However, I assure you that it is not an easy job and success does not come overnight regardless of what you have seen or heard. It takes a lot of time, patience and work to build and maintain a successful site.
It took me about a five weeks to earn my first dollar online but three months later my website was getting 10,000 visitors a day and I made a several hundreds of sales every single day.
All you need to do is put the effort in and you can build a profitable online business with a great passive income for years to come. I do make a shit ton of money with the best sponsors that I have listed below:
Sign up for them today and start working hard as soon as possible.
Stay tuned for more articles like this in the near future.