With the rapid decline of porn pay sites, more and more adult affiliates start promoting webcams which convert way better thus bring lots of money.
It is well known that the live sex term is one of the most searched keywords on the web nowadays and the most successful cam sites are making millions of dollars every day and a big adult sponsor CrakRevenue has recently announced that they paid over 90 million dollars in commission to their affiliates that promote their cam offers.
Early in the 2016 I stopped sending my traffic to traditional porn programs because I decided to give camming a shot and it turned out to be one of the best decisions I have made.
In the 2022 you can start your own adult webcam site with WordPress even if you do not know any coding whatsoever, you have a tight budget and you are new to this billion dollar industry.
In this post I will show you how you can create a very similar site to Chaturbate without lots of effort in less than a one hour in just four simple steps.
The 5 Things You Need To Do To Create Your Own Adult Cam Site With WordPress
It might be possible that you already have your own domain and you might even have a shared or VPS hosting account so feel free to skip the first two steps and jump to the step number three.
1) Register Your Domain Name
Are you completely new to the adult affiliate thing and you have not ever owned even a blog?
You will have to get your own domain name first. This alone will cost you about $12 a year.
It is the address that people will use to enter your website.
Do you need an example of popular domain names in the porn world?
You should know these ones: PornHub.com or XVideos.com.
The one domain name provider that I use and I can recommend myself is NameCheap (affiliate link).
They are totally fine with the adult so you do not need to worry that they suspend your account one day and they take your domains away.
Your domain name does not have to perfect, but make sure that you register a name that makes some sense.
So here are some examples of some established affiliate cam sites to give you some idea about what you should choose for your domain name:
Livefreecamx dot com
Nudelive dot com
Camdolls dot com
You can use numbers, dashes, but only in moderation, do not overuse these because your visitors might not even visit your cam site when it shows up on the Google, because they will think that you are the spammer.
2) Find A Web Host
If you have a domain name, now you will need to sign up for a web hosting in order to create your own adult cam site with WordPress.
How much you will pay for your account mainly depends how big (popular) your site is but if you are just getting your feet wet, then your fee would be about $3 to $10 per month.
You have to make sure to go with the provider that allows adult content because still most of the host companies do not want to host any kind of porn sites on their servers.
Now, if you are not tech savvy and you do not even know how to do simple things like setting up your email account then a fully managed hosting provider is the only option for you because they will make sure that your adult cam site works fine all day and they will do these simple things for you.
I can personally recommend you either 247 or TMDHosting.
I have to mark that I am their affiliate marketer, I promote them but I also actively use them on different adult sites.
In fact, I have been with TMDHosting for three years now and with 247 for over ten years and they both are a great choice for newcomers that need a managed hosting.
You do not have to choose any other hosting plan than the most basic one because you may eventually upgrade it once your adult website gets bigger, but you do not need it now.
Of course you do not have to pick any of adult hostings mentioned above, I just wanted to give you a recommendation 🙂
3) Set Up WordPress
You can finish this step in just a one minute or even less or it can take you a lot of more time.
It depends on which web hosting company you have chosen to use.
Some quality providers like TMDHosting or 247 make it super easy for new webmasters to install a WordPress software, because it only takes a several mouse clicks to do that because they offer one click installs.
But there are some hosts, especially unmanaged ones, that will only let you set up a WordPress manually so it will take about 20 minutes or even an hour, depending on how familiar you are with the control panels that they offer.
4) Sign Up For Webcam Affiliate Programs
In order to make any money with your WordPress cam site, you need to sign up for at least one affiliate program, but of course, you can register with as many sponsors as you want to.
I have tested pretty much every webcam site that lets you to become an affiliate and some of them did not convert at all with my traffic so I will share only the ones that work for me.
Here are my two top money makers in the webcamming industry:
AWEmpire – They have the best cam site (LiveJasmin) that always converts amazingly for me, no matter if I advertise them on my amateur tube site or a cam affiliate site. You simply have to check them out so sign up for a AWEmpire affiliate account now.
CrakRevenue – I have been promoting them for over five years and they have lots of different dating, gaming and including cam sites which you can make money with through their affiliate program. You can promote the most popular webcam brands such as MyFreeCams, BongCams (Royal Cams), CamSoda or Streamate (Slut Roulette) via CrakRevenue.
They are the most trusted (and my favourite) CPA network in the adult world, so they manually approve new affiliates to eliminate spammers and shady webmasters but if you show them your site or just tell them that you want to build a cam site using this script or you can even send them a link to this post, they will surely accept your account.
So go create a CrakRevenue account now.
The plugins and scripts that I recommend in this post also work with the following sponsors:
XLoveCash – I have been promoting them as well and they convert well with the European traffic but many sales also come from North America (mainly the USA and Canada).
BongaCams – They have a solid product and they have become quite popular in the adult industry recently. Most of the performers come from the Eastern Europe and you should test them as well.
If you join any of these cam sponsors, you will be able to import live chat rooms that feature models from their sites into your WordPress website.
Obviously, the more affiliate programs you join, the more models you will be able to display on your site.
It is recommended to join as many programs as possible because more models equal more content and more content equals more traffic from Google and more organic traffic equals more money in your pocket.
5) Set Up Your Adult Cam Site On WordPress
If you do not have any technical skills, lots of time and resources that are necessary to create and maintain a real live site like Cam4 then this post is for you.
Let's be realistic, if you were to start another LiveJasmin site then you would need to recruit hundreds of models, do all the promotion, do the SEO, hire coders and designers if you are not pro at coding, you will also have to deal with lots of paperwork and you will need to have a shit ton of money ($100,000 being the bare minimum).
Luckily for you, there are some scripts, plugins that let you create your own cam affiliate site with WordPress for as little as $50 and best of all, you do not have any coding skills or deal with models or any other stuff that might take up lots of your time.
Unfortunately, our users have reported many issues regarding this plugin so I have decided to no longer recommend it on here. The good news is that I have a better, working alternative that I mention later in this post, so scroll down a bit and you will find it 🙂
Econfirm Plugin makes it extremely easy for anyone to create a network of cam sites in just a few minutes with very minimal technical knowledge and no sweats.
You will just need to upload this plugin, activate it and choose any theme (either free or premium one) and add your affiliate link from a site that you want to promote and that is it.
This YouTube's video explains what you have to do to make this plugin work in a very newbie friendly way:
What this plugin does is it loads your WordPress database with models, which in plain language means that it automatically populates your website with webcam videos and it will every few minutes update your site with new videos of models that are online and it will remove ones that go offline
You can see how this plugin works on real websites:
livecamsxxx.net
two.illsex.com
There are some shady plugins that will skim your traffic and even change your affiliate link in a smart so that you do not credit for all sales but this great plugin gives 100% credit to you.
Plus, you are free to choose any WordPress theme and there are literally 1000s of these available at WordPress.org site for free and there are also some premium ones.
This plugin will work any template you choose as long as it works on WordPress.
You can use many different cam sponsors at once on your website and you are able to change the model descriptions as easily as you change any other WordPress post and the same goes for tags and categories.
You are also able to choose in the settings if you want to show only gay, trans, female or couple rooms on your cam site. You can select any of them and you can also make them all displayed at the same time if you want to.
It is worth mentioning that no pictures or videos are ever stored on your website so your webcam site needs very little server storage which means that you can start with the most basic hosting plan.
You absolutely do not need a dedicated server to run a cam site using this very plugin unless you already get millions of visitors every month.
If you purchase this plugin, you can create as many WordPress cam site using it as you want and you can use it on your already developed blogs and you do not have to purchase another license.
The team at Econfirm updates this product regularly and they will keep sending new updates to their customers for free.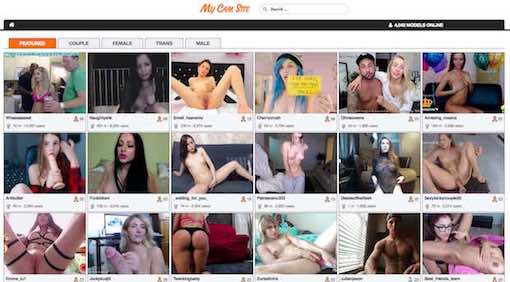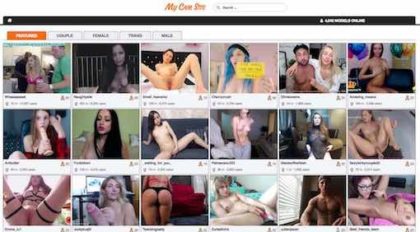 There is another great solution for you. It is a more expensive one but it has even more features and it comes with a custom made theme that looks really impressive so if you have a bit larger budget, I can recommend them to you as well.
I am talking about the RoboScripts.
They have a very intuitive options panel where you can change lots of things so you do not need to know any code or hire a coder.
You just need to upload their plugin to your site and enter the affiliate information from the sponsors (I mentioned above the one that works with these two tools) that you want to promote.
It will populate your database with a few thousands of live models with just a one click of the mouse and the text spinner API Chimp Rewriter will auto create unique content and it will significantly improve your search engine rankings.
I have to admit that they have done a very good job with this product because it is really SEO optimized. I have seen many adult cam sites built with this plugin that rank really well on the Google so the RoboScripts' plugin is the way to go.
WhiteLabel Vs. Third Party Script
You might have already heard about white labels that most of the webcam sponsors offer.
White label is basically an exact copy of Chaturbate or Streamate site and any affiliate can change it.
So you can create your own white label with let's say Chaturbate, it will have a very similar design to their site because you can only change a few things like add a logo.
Yes, you can build it on your own domain let's say on livecamxxx.com but it does not matter if you want to receive any organic traffic.
The very reason why you should not create a white label is because Google and other search engine sites do not like such sites because first of all they look almost the same like the original site and white label are usually not even indexed by search engines due to the duplicate content since such sites do not have any unique content.
On the other hand, with a third party script like the RoboScripts, you can change almost any part of the design and you can pick any theme you like, so your webcam site will never look like Chaturbate or Streamate.
You can also add new posts, change titles of the live embed rooms, you can even add SEO plugins like Yoast that will improve your search engine rankings as well.
You need to know that if you sign up for a sponsor and use their white label, then you will only be able to promote this one exact sponsor, whereas if you would build an independent cam site, you can choose to promote as many different programs as you only want to.
I can also say that you are not limited to what you can change if you go with the third party plugin, whereas with the white label you are allowed to change only basic things and you will never rank for any worthwhile keywords.
So build your own webcam site with a plugin so you can promote many different cam sponsors on the same page and get a steady stream of targeted traffic from the Google for free.
Build Your Cam Empire Today
Isn't it amazing that for less than $50 you can build your own cam empire today?
I can safely say that the RoboScripts' products are the best for those of webmasters that want a tool that is very easy to work with and very affordable.
If you are new to the adult industry, then I highly recommend you to consider promoting webcam sponsors using their products because I stopped advertising paysites a few years ago and since then I became a cam affiliate and I was really surprised how much money I made in my first month.
Thanks to RoboScripts, it has never been easier to make a webcam site that will actually rank well and generate a great passive income which will last for many years or even decades so do not hesitate anymore and create your own money making machine using RoboScripts' products today.